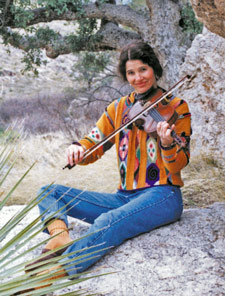 Alison Johnston has lived and painted on San Juan Island in north Puget Sound for over 25 years since 1981 when she graduated from Cornish College of the Arts in Seattle, Washington.
Living in the beautiful surroundings of the island environment her unique and vibrant style has evolved. Exploring the dramatic interplay between reality and the imagination and flat versus dimensional painting, her work tells visual tales; capturing narrative distillations of experience both naïve and yet profound.
Travels through Provence, France have inspired many of these sun-drenched landscapes and vibrant still lives. Ever exploring color to achieve an intense and emotional response to life, Alison's work reflects an innocent joy in the often unobserved beauty of the moment.
Alison Johnston: My Resumé
Born: 1956, Pittsfield, Massachusetts
BFA Cornish College of the Arts, Seattle, WA 1981
Lacoste School of Arts, Lacoste, France, summer 1979
Solo Exhibitions:
2013 Maison de Comte, Sauve, France
2006 Island Museum of Art, Friday Harbor WA
2002 Meloy & Company Gallery, Bellingham, WA
2001, 2000 Logan Gallery, Friday Harbor, WA
1998 Side Street Gallery, Lopez, WA
1997 Waterworks Gallery, Friday Harbor, WA
1994,1990,1987,1985, William Traver Gallery, WA
1988, 1987 Trumpeters Gallery, Friday Harbor, WA
1985 Ten Cannery Landing, Friday Harbor, WA
1984 The High Spot Cafe, Seattle, WA
1981 Cornish Institute, Seattle, WA
1980 King County Library, Mercer Island, WA
Group Exhibitions:
2012 Logan Gallery, La Quinta, Arizona
2008 Waterworks Gallery
2007, 2006, 2004, 2002, 2001, 2000 Gallery Ten, Lopez, WA
2005 C'est La Vie, Edmonds, WA
2003 Gallery Ten, Lopez, WA
2003 C'est La Vie, Edmonds, WA
2002 Your Man Friday, Friday Harbor, WA
2001,1996,1989,1986 Waterworks Gallery, Friday Harbor, WA
2001, 2000, 1999, 1998, 1997, 1996, 1989 San Juan Community Theatre, Friday Harbor, WA
2000 Logan Gallery, Friday Harbor, WA
2000 Crow Valley Pottery, Orcas Island, WA
2000 San Juan Library, Friday Harbor, WA
1999 Lakeshore Gallery, Kirkland, WA
1993, 1990, 1989 Artist's Trust Annual Valentine Exhibition, Seattle, WA
1989 The English Country House, Friday Harbor, WA
1989 Cygnet Gallery, Friday Harbor, WA
1987, 1986 Trumpeter's Gallery, Friday Harbor, WA
Juried Shows:
2007, 2006, 2005, 2004 LaConner Arts Festival, LaConner WA
2007, 2006, 2005, 2004, 2003, 2002 San Juan Island Summer Arts Fair, Friday Harbor, WA
2005, 2004, 2003 Best of the Northwest, Seattle, WA
2004, 2003 Edmonds Arts Festival, Edmonds, WA
2004 Edmonds Juried Arts Show, Edmonds, WA
2004, 2002 San Juan Island Summer Arts Fair Poster Design, Friday Harbor, WA
2002 Anacortes Arts Festival, Anacortes, WA
2002 Patron's Preview Invitation, Edmonds Arts Festival, Edmonds, WA
1986 Missoula Museum of the Arts, Missoula, MT
1986 Bumbershoot Arts Festival, Seattle, WA
1986 Seattle Design Association, Seattle, WA
Public Collections:
1994 Statton Elementary School, Newport, WA
1994 South District Primary School, Marysville, WA
1994 Allen Creek Elementary School, Marysville, WA
1994 Discovery Primary School, Issaquah, WA
1993 Maple Grove Middle School, Poulsbo, WA
1990 Breidleblick Elementary School, Poulsbo, WA
1986 Bethel School District, Spanaway, WA
1986, 1985 Nordstrom's, San Diego, WA